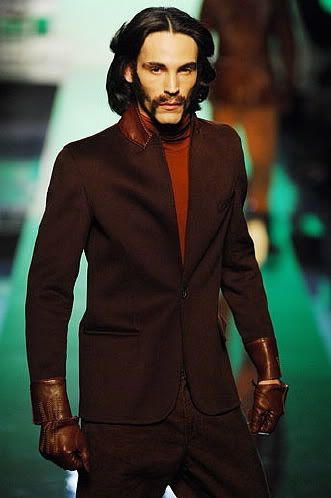 JPG Menswear A/W 07
"Oh? What's that you say? Oh yes. I've certainly got it all. The sliced gloves, the turtleneck, the 'stache... I had to forever give up my mortal right to bear cheeks but just look at what I've been given in return. Since 1734 I haven't aged a day, and my hair has been perfectly preserved in all its noble, radiant glory. Oh, yes. Why, I've got three telescopes, 58 monarchies, and an entire Imperial navy under my belt. Who there dares to challenge me? I'll smite you down with my quizzical eyebrows. Who deigns to flaunt something that I do not already possess? Hmm?"



"You don't scare me, Lord Boskeletox. Let's see how your sliced gloves fare up against...

JPG Menswear A/W 07
my pleated man-skirt!"