We're sorry, readers. It's been a long grueling summer--what with using all our might to resist the addiction of
Gossip Girl
reruns, then finally losing our strength and giving in, and then having to catch up before the new season started. And then trying even harder to resist the soap opera of the
other
gossip girl, Sarah Palin. And then pondering who would win a battle of wits between Sarah Palin and Blair Waldorf...
But we survived. We're stronger for it. We're not hearing voices anymore that end everything with "XOXO." We're ready for change. Go Obama!
And now we come back ready to roll on the new collections and what to we get? A whole lot of... really nice stuff. So... tasteful... so wearable... so
un
shocking. The Fuzz is trying, honestly we are. But what do you do when even Marc Jacobs lives up to his hubris for once?
Talk about nipplage? Yawn.
We could rag on all that grandma crochet, but let's get real here--making doily jokes would about put us on par with
US Weekly
.
So let's all thank god for Betsey Johnson.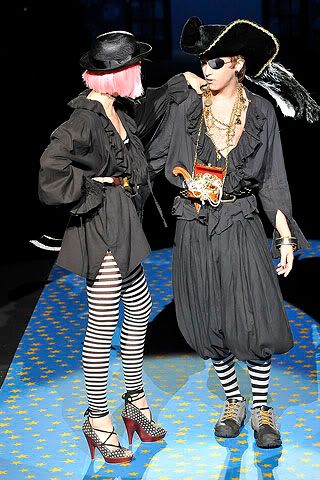 Betsey Johnson S/S 09
There just aren't enough designers out there making clothes for real women.
And by 'real women' naturally we mean pirates.

Yarrr.