Why should you choose Jeremy Laing's parachute suit?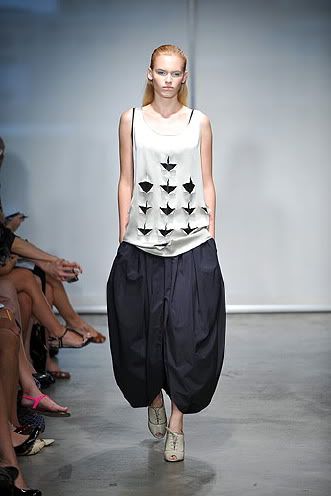 Jeremy Laing S/S 09
Because unlike other parachute suits that inflate over the entire body and make you look like Violet Beauregard's blueberry blob, our parachute suit is cut with wind vents on top to eliminate all that unwanted air retention. That means you stay cool as a cucumber and skinny as a skein. (A skein from which you've already knit half the sweater and you're running out of yarn and it gets all skinny and limp... you know?)
But don't take our word for it. Let's hear from a satisfied customer.
"I went to MC Hammer's Parachute Pantsuit party last week, and I was sweating a little when I got there because I was wearing a parachute skirt instead of pants. But not only did the wind vents in my Jeremy Laing parachute suit keep me dry, I caused a sensation because my parachute skirt was even bigger than the pants on the Hammer himself! Thanks Jeremy Laing!"
We know you have a choice when it comes to parachute pants, parachute suits, parachute pantsuits, and parachute jumpsuits. Thanks for chute-ing yourself with us.