OK, OK, we'll stop making fun of parachute pants. But only because we just discovered a new kind of pants. And these bad boys boast the most rewarding combination of words in the history of the English language since "cellar door."

Introducing...
BANANA PANTS!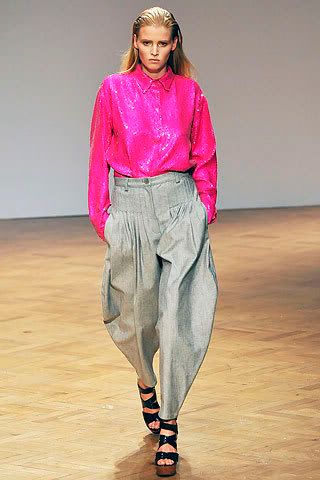 Armand Basi One S/S 09
Named for their full banana-shaped legs, these pants are yet another even more shocking, frightening, and thus fascinating member of the Unflattering Pants dynasty. Kind of like LaToya is to the Jacksons. And we're so excited that we've written a song about them.

ODE TO BANANA PANTS
(to the tune of 'America the Beautiful')

Oh beautiful, for spacious seats
For flowing waves of gray,
For tapered ankle highwaters
Below the pleated waist.
Banana Pants! Banana Pants!
God washed his hands of thee
And crowned thy look
With tops he took
From Liberace