And now, an important message about foreign policy from Frankie Morello and Tom Jones: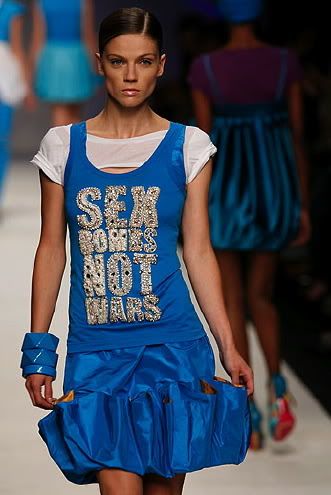 Frankie Morello S/S 09
Wait a minute, Messrs Morello and Jones. There's a lump in that sugar bowl...
Sex bombs not wars
... Make sex bombs instead of sex wars? Have sex with bombs but not wars? Sex doesn't war, it bombs?
Perhaps 'Sex bombs not H-bombs' would have been more grammatically appropriate.

Just a suggestion.

This post is dedicated to the fabulous Jes "Stu" Todd, in hopes that she has never forgotten one Ms. Bushnell's advice to "watch out for Mr. Big's." (Mr. Big's what? Exactly.) HF salutes you!