(Where would HF be without Sci-Fi fansites?)
After Max's family is murdered in the first film, he wanders out into the wasteland. The movie opens with a chase scene. Max still possesses the V8 Interceptor and his only companion is a Blue Heeler. He is being pursued by a Smegma Crazy who's driving a modified dune buggy, a Gayboy Berserker steering the road racer, and the Mohawker - Mighty Wez, handling the Kawasaki with the Golden Youth riding pillion.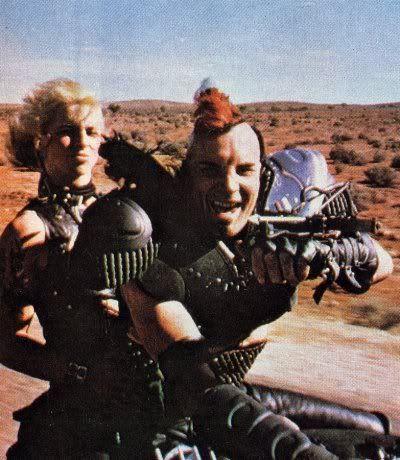 The villains are known as the Dogs of War, commanded by the Humungus.


As the Dogs of War pursue Max, they come upon a wreck on the highway. Max manages to steer his Interceptor through the chaos on the road, while Wez ramps the first cannibalized vehicle and safely guides his motorcycle through the rest of the wrecks. The Road Racer hits the first smashed up car but manages to get his vehicle under control and crests through the other stand-still wrecks. The Dune Buggy says not a chance and veers his car off the highway to the safety of the sand.


When Max realizes he's getting low on gas, he switches off the super-charger which gives Wez and the Road Racer a chance to overtake him. But Max slams on the brakes just as the Gayboy Berserker fires his porta-pack. The stray arrow catches Wez in the arm and he leaves the road. Max then fires up his super-charger and begins ramming the Road Racer. Suddenly, the Dune Buggy appears. The vehicles collide. The Road Racer flips over and over, finally coming to a rest on its roof.


Seeing his chance to get some gasoline, Max hits the brakes and backs up the Interceptor. He hurries out of the car, followed by his Dog with his gas can. Just then Wez appears on the hill, screaming in anger since he still has the arrowhead in his forearm. Max ignores the Kawasaki and chooses to siphon the Dune Buggy's fuel tank. When he hears a war cry, he glances at Wez. The evil Mohawker has dismounted from his big bike and is strutting towards Max, giving Max a clear view of

his

humungus.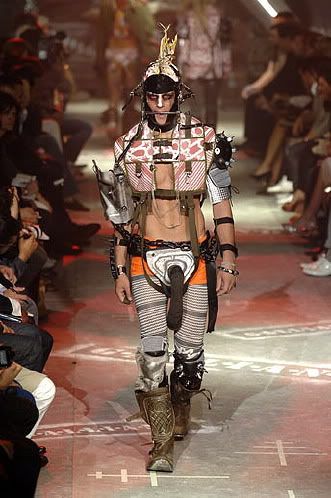 Unable to ignore the sexual tension of such a homo-erotic motorcycle chase any longer, Max (now mad with passion) engages The Humungus, Gayboy Berserker, Mighty Wez and the Golden Youth in an orgy of post-apocalyptic proportions by the side of the road.
With his gas tank refueled, Max heads off into the wasteland, leaving his new friends chomping at the bit.