Dan: I'm sooo bored, I don't feel like designing a collection. You do it.
Dean: No way. I'm exhausted having to constantly shock people with camp. You do it.
Dan: But Deeeean!
Dean: I'm too depressed and uninspired to design a collection.
Dan: So? Marc Jacobs did it. Why can't we make everyone else as bored and depressed as we are?
Dean: I don't care, do whatever you want. I'm going to sleep.
Dan: I hate you. I'm trading you for a new brother.
Dean: Good.
The next day...


Dan: Okay Dean, so while you were sleeping, I B-squared (bribed and blackmailed) Ralph Lauren and got him to volunteer to design the collection for us. Oh, here he is now. Hey there Ralph!
Ralph: So... what exactly do you want me to do?
Dan: Just do whatever you feel like doing.
Dean: Yeah, we don't care. Whatever's good.
Ralph: But you have to give me a concept to work with.
Dan: Boredom.
Dean: Depression.
Dan: Just do whatever you did for your own collection. What was that... something with black? And red?
Ralph: It was an homage to the American frontier and luxurious log cabin plaids--
Dean: Plaids, yeah, do that. And don't you do like suits and stuff?
Dan: Yeah do some suits. Tailored stuff.
Dean: But nothing too interesting. None of those fun hats.
Dan: Yeah, don't forget the reaction you're going for is absolute boredom. Blah. Those plaids better not be exciting.
Dean: Oh, they won't be. Everyone and their brother's doing plaids.
Dan: Ha, brother... Got that, Ralph?
Ralph: Well... I guess... but... are you sure you don't want
some
edge in there?
Dan: Nah.
Ralph: But what about some bondage chains? Or high heels made out of axe blades? Ninja star jewelry?
Dean: We said no edge!
Ralph: Handbags that look like spray paint cans that actually spray paint?
Dan: No edge, no camp!
Ralph: But...
Dan: Just pretend our name is the theme: D Squared. Make it square.
Dean: But not like "hip to be square," just plain square. Dull.
Ralph: But...
Dean: You just don't stop! Fine, give them fishnets or something. Shoes they can't walk in. Let 'em smoke cigarettes.
Ralph: That's not very edgy.
Dan: Exactly!
Ralph: Well... okay...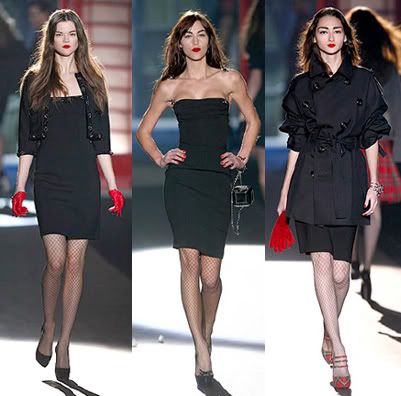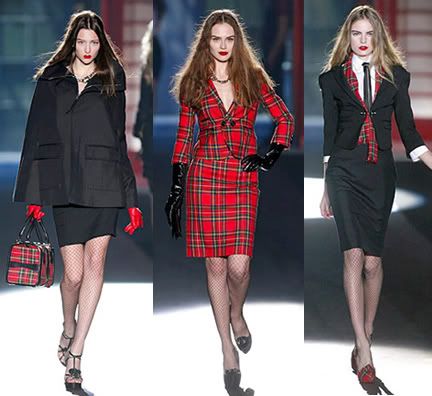 Dsquared2 A/W 08

Dan: Perfect.

Dean: Zzzzzzzzzzzzz.